3 Lifetimes In 1: A True Story Of Change And Redemption is a new non-fiction memoir about Mark's life. It has taken radical turns, but miracles saved him.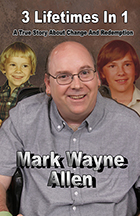 Reviews:

"Reading it is like sitting down at the kitchen table listening to a friend who is opening up and telling you the story of this life..." 
--- Lake Charles American Press
Gwendolyn Reasoner, PhD
National Award Winning Author, "Where Did the Day Go?"
---"Absorbing, inspiring, and tragic Mark Wayne Allen's new book release "3 Lifetimes In 1"the story of his life in despair, is courageously told and very focused with genuine emotion, capturing the attention of the reader throughout the entire book. A vivid memoir with great clarity and detail, tells an unforgettable survival story."
Sudie Landry, Writers' Guild of Acadiana President
--- "Your story is proof that life is not over for the quadriplegic, it is a new season to adjust to and keeping moving forward."
The best ways to keep up with me is Facebook, or this site. Samples of my writing are available on the Books and Writings page.
Learn more about events, appearnces, or how to invite Me to an event, see my Events and Appearances page.